Future Food Now: Asia-Pacific (#5)
Hi,
Good to be back with another issue of FFN after a holiday break.
With more and more news, it started to get long, so this time I included only a few larger stories - plus some shorter snippets.
As usual, please send me your feedback and spread the word by sharing the newsletter with your friends.
Thanks and enjoy - Michal
Beyond Sausage launches in Singapore with record sales
In January Grand Hyatt Singapore hosted another launch of plant-based product - Beyond Sausage by Beyond Meat. The hotel previously launched Beyond Burger, JUST Egg and Omnipork, using a similar food truck concept.
Hot dogs featuring Beyond Sausage, as well as Beyond Burgers, were available in front of Grand Hyatt and at Earthfest Singapore. In total, they sold over 4,700 of products, or one every 25 seconds, a new record for Hyatt's team.
The Beyond Sausage hot dog is now available at the hotel's Oasis restaurant.
Grand Hyatt has recently surveyed customers ordering Beyond Burger at their flagship MEZZA9 restaurant and discovered 88% of them are eating meat - but eager to reduce animal protein consumption due to health (59%), animal welfare (19%) and environmental (16%) reasons. The result is in line with similar surveys from the US and Australia, suggesting the rise of "flexitarian" consumer is a global phenomenon.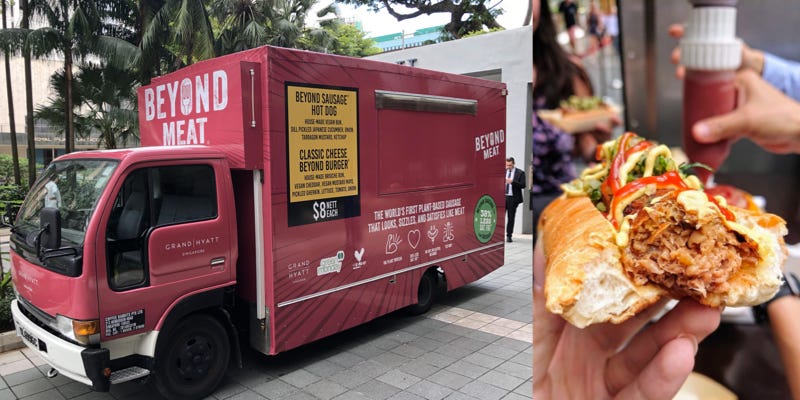 Beyond Sausage food truck (source: Grand Hyatt)
Omnipork expands to 140+ outlets across HK, Macau & SG
Plant-based Omnipork, from Hong Kong-based startup Right Treat, has expanded availability to over 100 restaurants and over 40 retail outlets across HK, Macau and Singapore.
The product is served in a wide variety of eateries, from traditional dim sum venues to a Mexican restaurant (as Al Pastor Omnipork).
According to the company, after one of HK restaurants (Loyal Dining) introduced Omnipork version of a popular clay pot rice dish, ~30% of customers ordered a plant-based variant (vs. animal-based pork).
The retail pack of Omnipork is now available at a number of HK grocery stores and supermarkets, including TASTE, city'super, SOGO, great Food Hall, AEON - and Green Common, which is owned by the same group. The company has not yet rolled out the retail pack outside of Hong Kong but announced it is planning to do so in Singapore.
Omnipork - and its sister organisation Green Monday - is also attracting some publicity related to Year of the Pig (豬年), which started in early Feb according to Chinese calendar.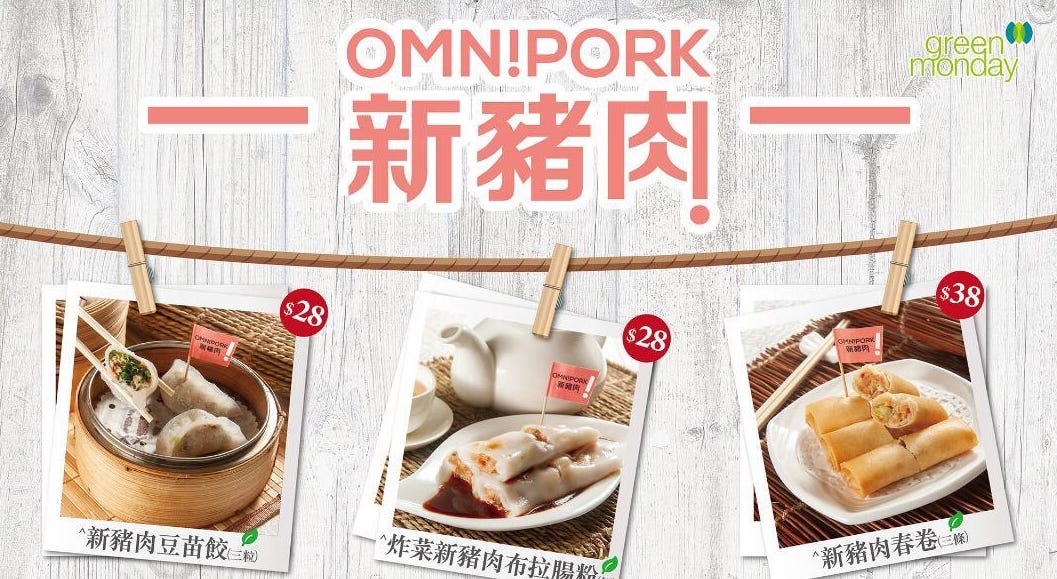 Omnipork dim sum selection (source: Green Monday)
Impossible's and Beyond's 2.0 burgers rolling out in APAC
In early 2019 both Impossible Foods and Beyond Meat have introduced new versions of their flagship burgers in North America - and they will be rolling out soon in Asia-Pacific.
Impossible Burger 2.0 has been announced during CES in Las Vegas, winning several "best in show" awards. During the January launch event, the company confirmed the burger is coming to Singapore "soon in 2019".
CEO Pat Brown told Business Times:
We have talked with a number of restaurants in Singapore already, we know quite a number of them that we're going to launch with.
He also commented on Singapore's potential as future manufacturing and R&D hub for Impossible Foods:
We are certainly considering, eventually, that Singapore might be a good place to have manufacturing and maybe some product research. We haven't committed to that but it's definitely something we are thinking about.
Singapore's US$300b+ sovereign fund Temasek is one of the major investors in Impossible Foods. Temasek CEO even got Singapore's Prime Minister Lee Hsien Loong to try Impossible Burger during the last F1 event in the city (photo here).
Outside of the home market, the only countries where Impossible is available are Hong Kong & Macau (for now only 1.0 version).
Beyond Burger 2.0, which so far has only been sold at A&W in Canada and Carls Jr. in the US, debuted in Australian plant-based burger chain Soul Burger on Feb 11th. According to the company it is exclusively [at] Soul Burger for the first two months of its release in the Australia and Asia-Pacific region.
More about changes in the formulations of new versions in this article I co-authored with Chris Gregson from Greenstalk.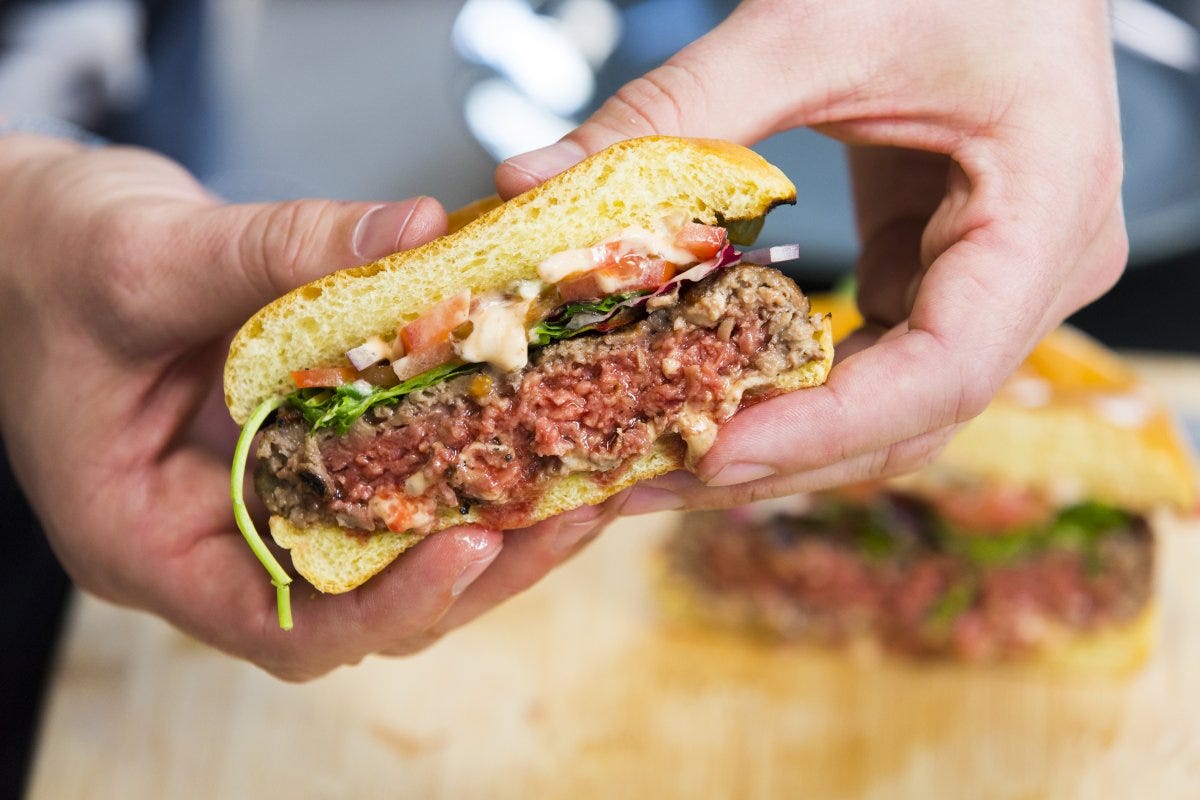 Impossible Burger 2.0 (source: Impossible Foods)
New F&B director at trailblazing Grand Hyatt Singapore
For the past few years, the Grand Hyatt hotel in Singapore (GHS) has become a local trailblazer in terms of providing sustainable dining options - and a launch pad for major global plant-based brands in the city-state (like Beyond Meat and JUST Inc.).
Each of the hotel's restaurant offers 100% plant-based options, and in some cases, they are outselling their meat-centric dishes.
These efforts were driven by Jerome Pagnier, the hotel's F&B director & his team. Jerome is now moving back to Europe, handing over to Sebastian Kern, who has been with GHS for many years.
I asked Jerome and Sebastian to share some thoughts on their journey so far and plans ahead.
FFN: What do you think is an impact of your initiatives at GHS for Singapore's and the region's F&B market?
Jerome: As pioneers of the plant-based proteins in the city, I believe we helped to push the market to a tipping point. The demand for alternative proteins will definitely continue growing in the region and Singapore is at the heart of it.
Sebastian: Running the greenest and most sustainable F&B operations in Singapore has been our strategic priority and goal. GHS management is very supportive of new ideas and allowing us to try out these new initiatives. We see increased interest in what we are doing from other Hyatt group properties as well.
FFN: What does the future hold for you both and GHS?
Jerome: At GHS we laid the foundation of what I like to call "Thriveable Business Model". It is now in Sebastian's hands. He truly understands and embraces the sustainability vision. I'm confident that he will be successful as my successor. And I am planning to get myself involved in the European plant-based movement.
Sebastian: I look forward to further expand our strive towards a sustainable business model with environmental stewardship, social responsibility and economic prosperity. I need to thank Jerome for being such an amazing mentor and role model.
FFN: Thanks and good luck to both of you!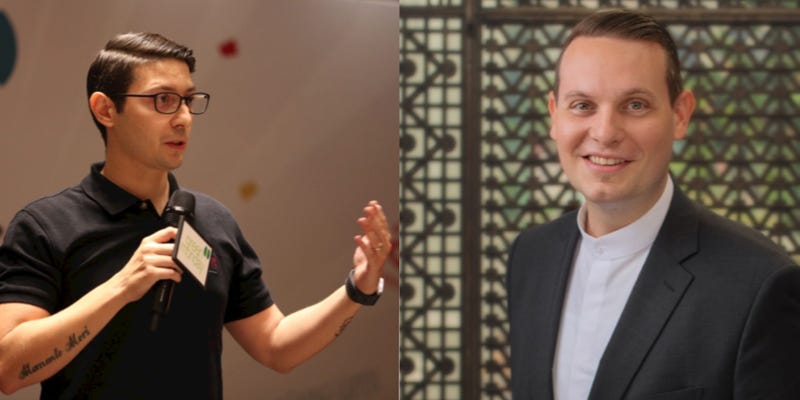 Jerome Pagnier / Sebastian Kern
Fat Baby plant-based infant formula among 1st batch of Brinc foodtech accelerator
Hong Kong's Brinc is running the first foodtech accelerator in Asia-Pacific that is focused predominantly on plant-based and cell-based startups - and it has just announced its first batch of entrepreneurs.
It includes Fat Baby Foods that is working on a range of plant-based pregnancy and infant formulas to "provide mothers and their growing infants with all the nutrition they need from plants using the latest food technology". The formulation is developed in California and startup with target China and the US markets.
Other startups in the 1st batch work on plant-based protein shakes, no-sugar condiments and smart home fermentation device.
Brinc is offering US$80,000 investment (minus US$30,000 participation fee) in exchange for 10-15% equity. One of the partners for the accelerator is JUST.
Manav Gupta, Brinc's Founder & CEO said: "We plan to invest in another 16–20 companies in this category in 2019. We're looking for more clean meat companies for the next batch."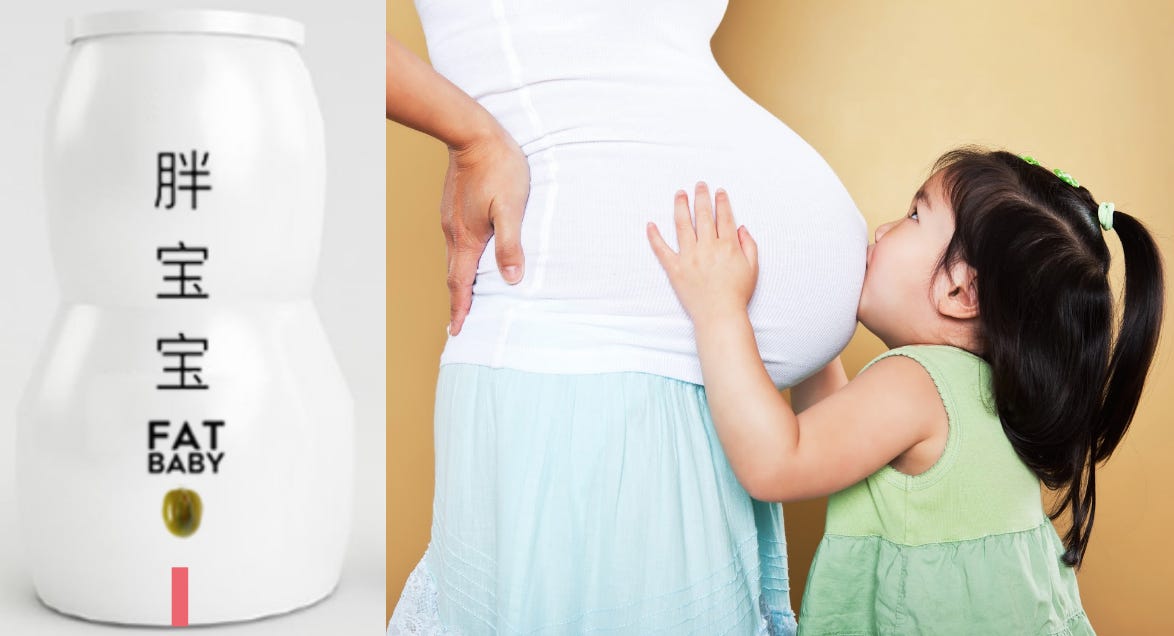 Source: Brinc
In other news...
💰 Singapore government's investment arm for early-stage companies, SEEDS Capital, partnered with seven funds to pump S$90m (US$66.2m) into Singapore's agri-food startups; while not exclusively plant- and cell-based, the initiative does include alternative protein sector, which as I previously reported, is one of the three pillars of Singapore's agri-food strategy
📱 abillionVeg, plant-based review platform based in Singapore, is planning to add packaged goods reviews (currently focused mostly on restaurants); CEO Vikas Garg also shared with FoodNavigator Asia that his top5 markets are the US, Singapore, Canada, HK and Indonesia; the startup raised US$500,000 in seed funding in 2018
🥚 JUST hosted a China launch event in Shanghai in mid-December; according to the company, JUST Egg will be available in the first half of 2019 at Alibaba-owned supermarket Hema, online at Tmall and JD.com as well as restaurant chain Hunter Gatherer; no other major global plant-based brand is currently present in mainland China, so JUST is most likely going to be the first
🍕 Pizza Express Singapore is launching a plant-based "Verde" menu, which is going to be presented to all diners alongside the regular one; it includes items like Curried Beyond Beef Pizza and Omnipork Penne; the chain's GM Nick Freeman said: "with such a clear need to reduce consumption of meat globally, we wanted to introduce a menu with some great-tasting meat-free options, for all diners; not just vegans and vegetarians"
🌭 Beyond Sausage is now available in Australia at plant-based fast-food chain Lord of the Fries; customers can 'upgrade' a regular plant-based hot dog to Beyond Sausage for AU$4 (US$2.85); the chain previously used the same model for Beyond Burger patty, available as an upgrade at extra AU$3.50 (US$2.50)
🍴 Green Queen reports that HK's restaurant Hemingways has recorded their highest sales after switching to 100% plant-based menu in early 2018
🛒 Plant Kitchen, a range of 100% plant-based ready meals from retailer Marks&Spencer has been launched at selected Singapore's stores only 2 weeks after it originally debuted in the UK
🍦 Unilever launched dairy-free, 100% plant-based version of Magnum ice cream in Australia (& soon in NZ); according to distributors' brochure, "media spend" for the product will reach AU$3.5m (US$2.5m); social media users report it often sells out at major supermarkets throughout the country; The Guardian has an article with perspectives from Australian Dairy Farmers and Unilever; the product has been also recently spotted at Singapore's top online retailer RedMart
Announcements and upcoming events
🎤 Disruption in Food & Sustainability Summit is coming to Grand Hyatt Singapore on March 29th with speakers representing Impossible Foods, Quorn/Monde Nissin, The Good Food Institute, ProVeg and A*STAR among others; Future Food Now is an ecosystem partner, and I will be there to speak about plant-based investing
👩‍🔬 Shiok Meats, the first cell-based seafood company in South East Asia is looking for bioengineers and researchers to join their Singapore team; to learn more about Shiok's founders' vision and plans, check this recent FoodNavigator Asia article
👍 If you managed to get all the way down here, you might as well follow FFN's Facebook page :)