Future Food Now: Asia-Pacific (#7)
Welcome,
It's been an eventful few weeks in the plant-based and cell-based space. While in the US the focus is on Beyond's IPO and Impossible's partnership with Burger King, there is no shortage of news here in Asia-Pacific. Local players continue to expand, raise money for further growth - and there is a new big VC fund/accelerator in the region.
Enjoy and remember to share the newsletter if you find it useful - that's how you can help build awareness of this growing industry.
Cheers - Michal
Green Monday & Omnipork expanding to five new markets
Hong Kong-based Green Monday Group recently launched in Taiwan and the Philippines. Later this year they plan to expand to Thailand, Vietnam and mainland China.
Green Monday Group (GMG) has several subsidiaries supporting each other: the social arm is building awareness around the environmental impact of food, while venture arm takes an active role in the market to increase the supply of plant-based food. The latter includes food retail & distribution, corporate consulting, VC investments and development of their own food products (Omnipork).
The group secured distribution deals with major US brands like Daiya and Califia Farms - and most notably Beyond Meat. Green Monday VC arm is also one of the early investors in Beyond.
GMG's founder David Yeung said this about an impact of Beyond's recent IPO (the company has a market cap of over US$4b a few days after their Nasdaq debut):
"Being an investor and the Asian distribution partner of Beyond Meat since its early days, I have the honour of having a front-row seat on their epic IPO. There is no doubt the record-shattering listing of BYND sent shockwaves around the world, as people suddenly woke up to the disruption happening in the food industry."
Since November last year, David is taking GMG outside of its core market of Hong Kong & Macau. In 2018 they expanded to Singapore and in March 2019 launched in Taiwan.
Taiwan launch event - which I had a chance to attend in person at Grand Hyatt Taipei - included a number of partner restaurants and a celebrity endorser. Omnipork, Beyond Burger and other products distributed by GMG are now available to Taiwanese food service companies and in the future also at retail outlets.
Next up is Thailand, where GMG is already manufacturing Omnipork. In August they plan the launch event in Bangkok, similar to the one in Taipei - with major hotel and food service partners, including "one Michelin star restaurant as well as fast casual and cafe chains", David Yeung told me.
Smaller-scale rollouts are happening in the Philippines (at Grand Hyatt Manila) and Vietnam ("some major hotels launching Beyond Burger to start", according to David).
The big one coming up in 2nd half of the year is mainland China. Asked about details David said: "ecommerce will be a key part of our strategy given the size of China". The launch will also include "hotel, F&B and retail".
None of the major plant-based brands is available in China yet. JUST has hold a launch event in Shanghai for JUST Egg in December, but their products are not yet sold there at the time of publication. Impossible Foods said it has a plan to come to mainland China "within the next 2 years".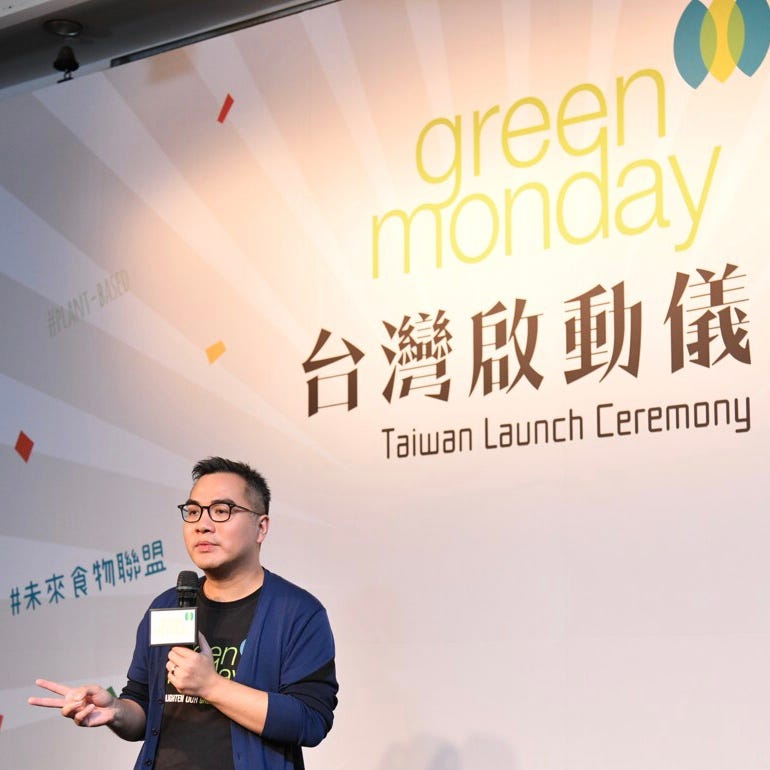 Founder David Yeung at GMG Taiwan launch event (source: SCMP)
Shiok Meats closes US$4m+ seed round, presents a dumpling with cell-based shrimp
Singapore's first "cellular aquaculture" startup recently closed US$4m+ seed round. With a total of US$4.6m raised, it is the 3rd best funded cell-based meat/seafood company globally, after Memphis Meats and Mosa Meat.
The latest round has been led by Henry Soesanto, CEO of Monde Nissin (owner of Quorn Foods).
Other investors include Big Idea Ventures (see below), AeraVC, Beyond Impact Ventures, and Boom Capital. Previously the company has been funded by Y Combinator and Ryan Bethencourt (ex-IndieBio), Innovate360 and others.
I asked why Henry decided to invest and here is his reply:
"The food we consume today has a great impact not only to our health, but also to the health of the planet. Shiok Meats' vision in producing healthy and sustainable shrimp meat resonates very well with both my company and personal advocacy."
In late March, during Disruption in Food and Sustainability Summit, Shiok's co-founders Sandhya Sriram and Ka-Yi Ling organised the first tasting of their cell-cultured shrimp prototype.
Selected investors and advisors had a chance to try siew mai style dumplings made with a blend of Shiok's shrimp and Quorn's plant-based mince. These eight dumplings cost SG$5000 (US$3700), but the company told Straits Times that "by the end of next year it can reduce the cost to $50 per kg by concocting its own in-house plant-based culture media".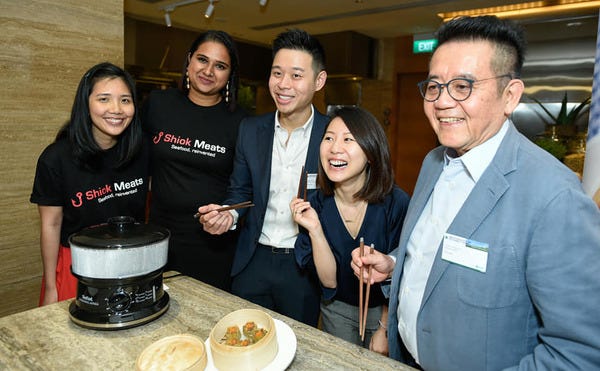 Cell-based shrimp dumplings tasting in Singapore (source: Shiok Meats)
Temasek, EnterpriseSG, Tyson invest in New Protein Fund
Big Idea Ventures announced the first close of their New Protein Fund with ~40% of targeted US$50m committed from Temasek, Enterprise Singapore, and Tyson Foods.
The fund is focused exclusively on startups developing plant-based and cell-based food products and ingredients. It will operate a food tech accelerator in Singapore, scheduled to launch in Q4 2019.
It is offering US$125k cash and US$125k in services to companies participating in the accelerator program in exchange for 8% equity. The largest chunk of the fund will be spent on follow on investments in the strongest performers.
BIV will also do selective investments outside of the accelerator. They already made their first by taking part in the recent seed round of Shiok Meats (see above).
Asked about their investment, Enterprise Singapore sent me the following statement: "Industry players like BIV, that has the breadth of experience and established reputation, are valuable partners to grow Singapore's agrifood-tech startup ecosystem".
Big Idea Ventures' founder and managing general partner Andrew Ive (previously with Food-X) told DealStreetAsia that he is "not ruling out the possibility of Asian food tech startups scaling up to take on rival brands such as Impossible Foods in the years to come".
Andrew Ive, founder of Big Idea Ventures
Vegetarian meat producer Qishan Foods eyes mainstream consumers
The company, which is also known as Whole Perfect Food, has been founded in 1993 in Shenzhen, China.
Like many similar businesses across Asia, Qishan Foods has been targeting Buddhist consumers with their 200+ SKUs line of "vegetarian meat" - or "mock meat" as it is sometimes called in the West.
They now recognise that with plant-based protein going more mainstream, there might be a much larger market for them. Qishan was one of the several companies that showcased their products during the recent MeatFest event in Shanghai, organised by Eve Samyuktha, and intended to connect Chinese manufacturers of traditional plant-based meats with consumers and restaurants.
According to the founder Yu Zhaode (via South China Morning Post), Qishan's annual sales is 300m yuan (US$44.6m or roughly half of Beyond Meat's sales from 2018), 8% of which is from export.
The company recently started a small-scale pilot program with Walmart China, where Qishan's products are showcased at "fresh food window" (prepared foods) at several Walmart stores in Shenzhen (Walmart has over 400 retail locations across China).
Elaine Siu, APAC Managing Director of non-profit The Good Food Institute recently visited Qishan's HQ as part of the extensive China research trip she took with GFI's SciTech director from the US (more on their trip here). She told me:
"The challenge for a company like Qishan is to make the decision to re-brand itself to go after the mainstream market, while it has a proud history and dominating position in a niche (but still very large) vegetarian market, and we [GFI team] focused on sharing with Qishan how investing in technology and innovation may just be the key to make that leap."
Qishan claims to do "3 to 50 new product studies a year" and to be setting up "a research institute at Shenzhen University for soy protein isolate and other plant-based products".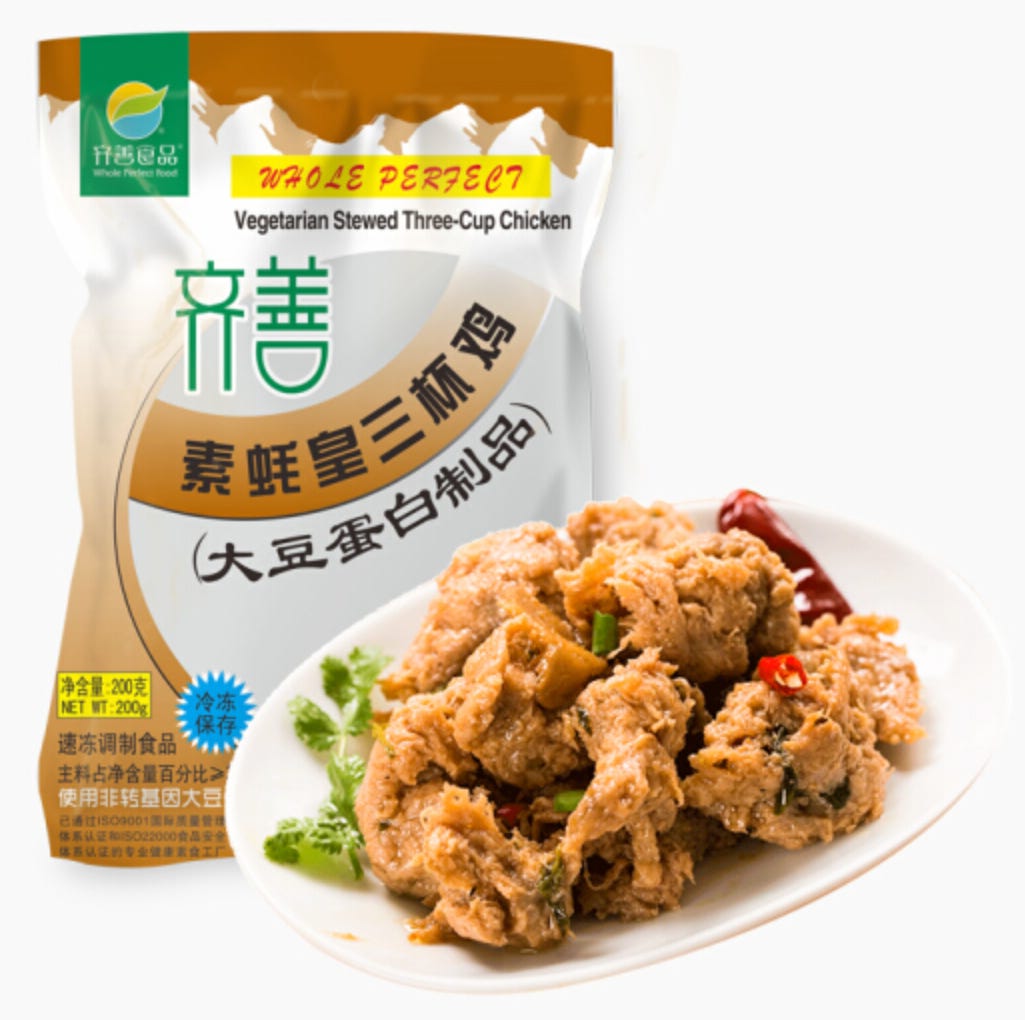 One of Qishan Foods' products (source: JD.com)
More news...
🌏 HK food tech accelerator Brinc has announced their second cohort; it includes Phuture Foods, which is "the first halal plant-based meat in Malaysia", according to Brinc's blog
💰 Plant-based review platform abillionveg from Singapore is raising US$2m in seed funding; founder Vikas Garg told me the round will be led by a well-known VC fund and is expected to close by end of May; the startup previously raised a pre-seed round of US$500k from Blue Horizon, 1/0 Capital and several family offices
🍔 Impossible Burger expanded from the initial 8 to nearly 50 restaurant outlets in Singapore within two months from the launch - now including a popular chain PS. Cafe and a modern Indian restaurant Punjab Grill
🥛 First 'mainstream' dairy-free yoghurt in China has been released at Shanghai retail stores by a food company Nongfu Spring
🚚 Grand Hyatt Singapore has delivered another one of their plant-based food truck experiences, this time selling nearly 2,800 Beyond Sausage hot-dogs during WWF's Earth Hour event
🌭 Beyond Sausage from Beyond Meat is now available in a retail pack in Hong Kong, for the first time outside of North America
🍔 New Zealand burger chain BurgerFuel launched Beyond Burger at all of their 56 outlets in early May, pricing it at NZ$10 (US$6.60); reportedly, within days many locations sold out from a full month supply (I was not able to confirm this with the company)
🌱 Grill'd, an Australian chain with 100+ locations, went meat-free for a day on Monday, April 15th, offering customers Beyond Burger and other plant-based options instead of animal-based meat; the company's founder previously committed to moving 50% of the menu to plant-based by end of 2020
💵 Indian government granted US$640,000 (Rs. 4.5 crores) for cell-based meat research to Centre for Cellular and Molecular Biology and National Research Centre on Meat from Hyderabad
Articles, resources, and events
📗 GFI and Brinc have published The Good Food Startup Manual: Hong Kong Edition (download here), described as "all-you-can-read buffet on planning, launching, and growing a good food business"
🎙️ Another useful resource for food entrepreneurs is this podcast by the founder of BiteSociety, a new plant-based chocolate startup based in Australia and HK; Simon has decided to run his company in an ultra-transparent way and is sharing ups and downs of establishing and growing his business (also on social media)
👍🏼 More updates and breaking news on FFN's Facebook page